FURUNO fleetbroadband
Available on backorder
FELCOM250 and FELCOM500 are FURUNO's new Inmarsat FleetBroadband terminals, which delivers ship-to-shore/ ship-to-ship broadband communication of up to 432 kbps together with voice communication all at the same time by utilising the latest generation Inmarsat I-4 satellites. read more
Description

FleetBroadband offers the data communication services with both shared bandwidth (Standard IP of up to 432 kbps) and dedicated data rate (Streaming IP of up to 256 kbps). On top of that, the users can make use of ISDN data service* as well as FAX communication.
FELCOM250 and FELCOM500 will bring cost-effective broadband communication onboard the vessels for a variety of needs, for both operational and social purposes, including calling their friends and family back home while at sea.
* available only for FELCOM500
Features
Features of FELCOM250/FELCOM500
A wide variety of maritime broadband communication services available
Simultaneous access to voice and high-speed data communications
Global coverage provided through three Inmarsat-4 satellites.(except for polar regions)
IP handset and IP-PBX incorporated
Multiple IP handsets can be incorporated into the network by using the switching hub
Wireless IP phones can be utilized.(wireless LAN access points required)
No dedicated software required for configuration setup.(web server function incorporated)
Simplified installation through a compact antenna unit with a diameter of around 60 cm, weighing around 20kg.(FELCOM500)
Communication Unit supporting all major communication systems carrying ports to facilitate plug-and-play system integration
Built-in NAT router facilitates smooth network integration to the Internet
Incoming indicators available.(optional supply)
FB-2000 Communication Unit

RS-232C 9pin D-Sub female connector for ISDN UDI/RDI
NMEA in/out Phoenix 5pin (NMEA 0183 Ver.2) for navigation equipment
Alarm output Phoenix 3pin for alarm equipment
For power supply
For Antenna Unit.(Antenna cable length selectable 30m or 50m)
LAN RJ45 ports for IP handsets, PC/network equipment, telephone hub
Telephone RJ11 for telephones and facsimile
Telephone Phoenix 4pin for telephones and facsimile
USIM card slot
Overview
System Overview of FleetBroadband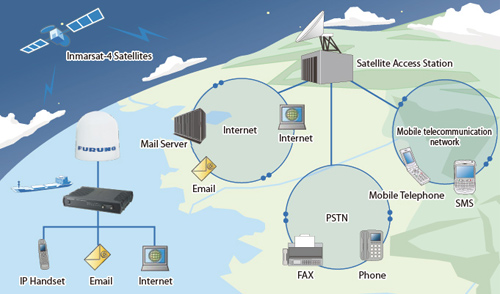 FleetBroadband coverage
I4 satellite F1 PAC-W 143.5E: Covering Oceania, Western Pacific and South and East Asia.
I4 satellite F2 IND-W 25E: Covering Western Asia, Africa and Eastern Atlantic.
I4 satellite F3 PAC-E 98W: Covering Western Atlantic, Eastern Pacific and Americas.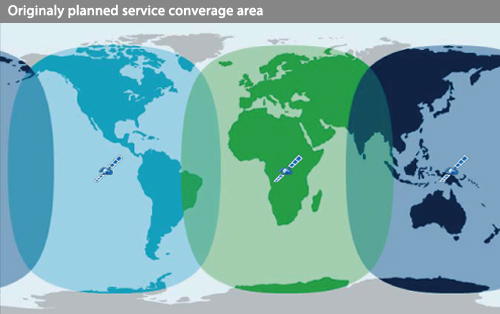 Features of Inmarsat FleetBroadband service applications.
Selectable data rates for data communications according to needs:
| Standard IP | Streaming IP |
| --- | --- |
| Service providing best effort delivery of 432 kbps.(FELCOM500, 284 kbps for FELCOM250) (connected through shared connection pipe: less traffic—higher throughput, and more traffic—lower throughput) | Guaranteed streaming data rates on demand, rates selectable from 8, 16, 32, 64, 128 or 256 kbps. (no contention amongst those who are connected in the same network—guaranteed throughput at all times) |
| Suitable for typical office applications such as e-mail, web browsing, FTP, VPN, etc. | Suitable for bandwidth-hungry large data transfer, i.e., real-time streaming video and audio, Voice over IP, etc. |
| Data service charged for data sent and received. | Service charged for the duration of the connection to the network. |
| – | These dedicated streaming channels can run independently while the standard IP service is running in the background, meaning that a host of applications can be running simultaneously. |
Crystal clear voice telephony
4 kbps cost-effective, landline quality speech available.
Supports one circuit switched service at any one time.
Simultaneous use together with data communications.
High stability in communication links achieves constant network availability even under harsh environmental conditions.
Supports additional core voice and ISDN data capabilities for integration with legacy applications.
ISDN compatibility available on FELCOM500.
SMS (up to 160 characters) and voice mail.
FELCOM250
FELCOM500
FELCOM70
Data Communication
Standard IP
(Best effort delivery)
Up to 284 kbps
Up to 432 kbps
MPDS up to 64 kbps
Streaming IP
(Guaranteed data rate)
8, 16, 32, 64, 128 kbps
8, 16, 32, 64, 128, 256 kbps
N/A
ISDN
N/A
64/56 kbps
64/56 kbps
Voice
4 kbps AMBE+2/3.1 kHz audio
Simultaneously usable with packet data and IP services
4.8 kbps AMBE/3.1 kHz audio
NOT simultaneously usable with data service
FAX
Group 3 FAX via 3.1 kHz audio
9.6 kbps (Group 3),
64 kbps (Group 4)
SMS
Standard 3G (up to 160 characters)
N/A
Solution
With its simultaneous voice and data capability, FELCOM250 and FELCOM500 can support an extensive range of user applications. All tasks can be conducted all at the same time through a single terminal. N.B., Certain network devices must be arranged locally, in order for you to make use of some of the applications.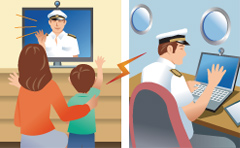 Social communication and increased welfare for crewmembers.
Crewmembers are now able to make private phone calls or send SMS using their SIM card to their friends and families back home. They can also browse the web to read news from home, football results or any other news of their interests.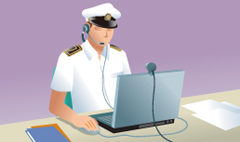 Educational opportunities for crewmembers using distance learning.
Using their off-duty time in a more productive manner has become very popular amongst navigators. VSAT allows crewmembers to attend off-campus distance learning courses through IP applications such as.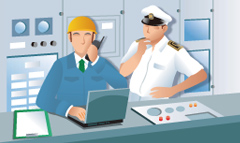 Troubleshooting in case of equipment failure.
In case of failure of engine or other onboard equipment, chief engineers onboard can set up live, on-the-spot remote condition-review and troubleshooting sessions with service engineers from various manufacturers onshore. A reliable high bandwidth connection is essential for enabling these functions, and FleetBroadband provides a perfect solution.
Related products